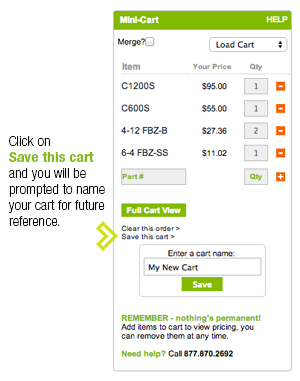 Saved Shopping Carts

Using our advanced shopping tool
Saved Shopping Carts
allows you to pick items and compile a shopping list for future purchase.
LOG IN
, if you haven't already. If you are not a registered shopper you will need to
create an account
to save your carts.


Creating a saved shopping cart
Creating a Saved Shopping Cart
is an easy way to speed up the process on products that you buy over and over. You can set up and save multiple shopping carts to streamline your ordering.

Add items to your mini-cart and click
Save this cart
. You will be prompted to name your cart. After you receive acknowledgement that your cart has been saved you can continue shopping or log out and shop another time.
Retrieving a saved shopping cart
O
nce you are logged in, click on
my account.
At the bottom of the page you will see a list of your saved carts
.
Click on any of your
saved carts
to see your chosen items.
Click on Add to Cart
to make this cart a live order. You can now add or subtract items in the shopping cart and make a purchase. Your original saved cart will remain unchanged for future orders.